Mission Critical Industrial Edge and application ecosystem FAQ
A locally deployed ruggedized edge server that meets OT resiliency, availability and security requirements is key to ensuring business continuity. An industrial edge supports business-critical industrial use cases that are mission-critical. This means no external interdependencies or risks from any external factors. Traditional information technology (IT) systems handle data for communication functions like e-mail, editing documents or access to shared data in the cloud and usually run on a standard data center.
An industrial campus is a complex, brownfield, heterogenous environment and the industrial edge needs to be integrated seamlessly. the perfect OT Edge has the capability to connect all industrial assets, be native in translating proprietary communication protocols between southbound and northbound systems and connect to any cloud.
Many edge providers lock you into their own ecosystem, throttling your innovations as you are unable to tap into the best the industry has to offer when it comes to digitalization-enabling applications.
Nokia's industrial edge enables you to deploy applications from a wide range of providers. We work with the best partners in the industry but also have some of our own best-in-class applications.
This gives you flexibility and allows you to tap into the immense value contained in your real-time OT data to achieve your Industry 4.0 transformation goals.
Asset tracking, connected workers with AR, digital twins, machine predictive maintenance or workers' voice and video communication, are just a few examples of what you can achieve. We suggest you book a demonstration for Nokia Team Comms to see how messages, voice and video services can improve worker collaboration. Try and see how Taqtile Manifest®, an augmented reality work instruction tool gives your workers a digital overlay with work instructions, so they have all work instructions readily available in the corner of their eye. Or ask about our High Accuracy Indoor Positioning (HAIP) application enables precision asset tracking so raw materials or goods will never get lost again. MXIE's growing neutral ecosystem also enables you to onboard OT legacy applications already running in your plants so it unifies people, machines, and technology.
Our Nokia Industrial Application Catalog offers you a wide variety of digitalization enablers across many categories ranging from video analytics, connected worker apps, positioning and tracking, IIoT apps and many more.
Whether you are running Nokia DAC private wireless or Modular Private Wireless (MPW) network, MX Industrial edge can be easily added to expand your digital transformation capability and accelerate your Industry 4.0 transformation.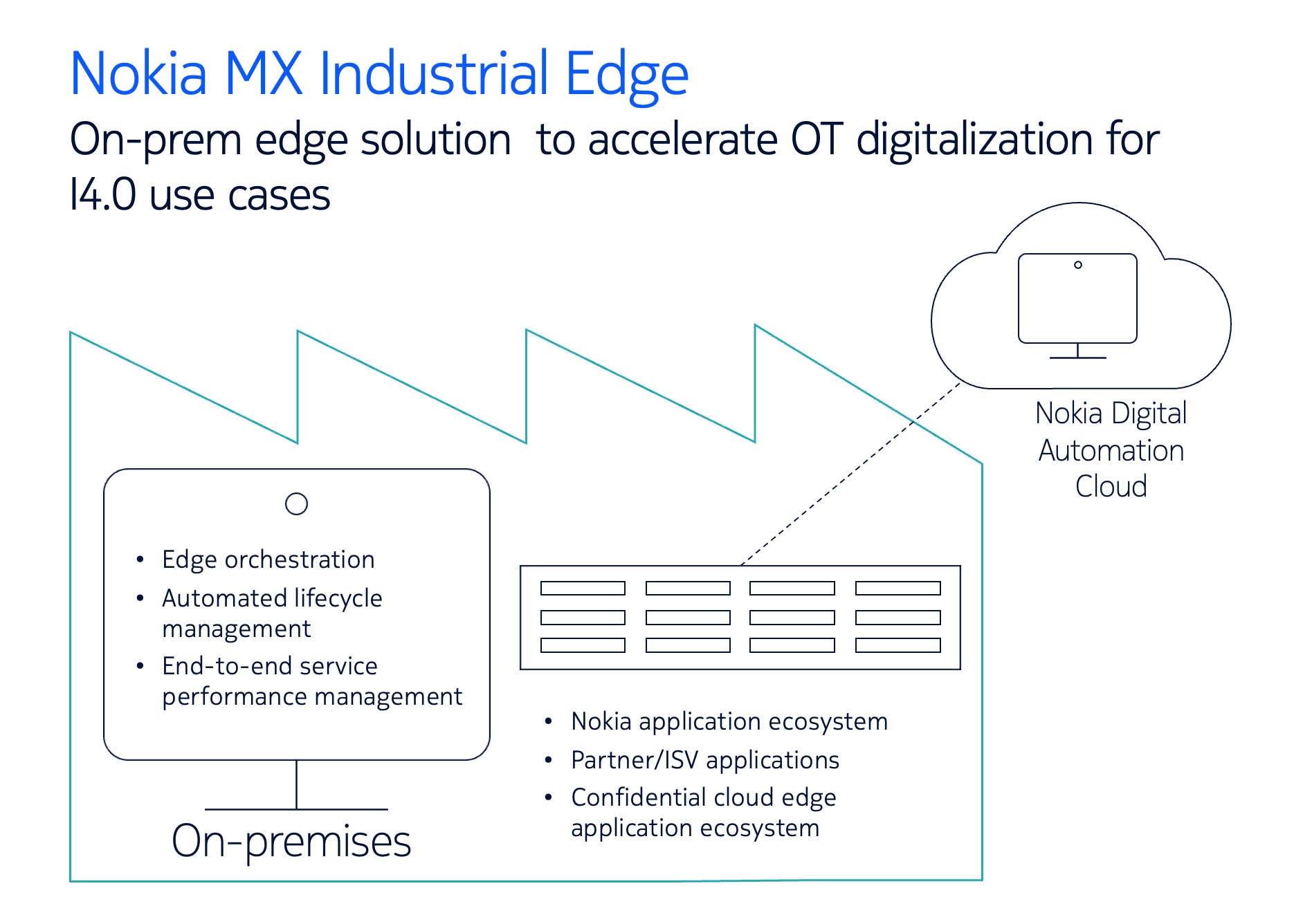 Please complete the form below.
The form is loading, please wait...