Integrate rail subsystems seamlessly
Digitalization of railway operations will enable faster, safer, and more efficient rail travel while offering the best passenger experience. The foundation of this digital transformation initiative is a combination of mission-critical control, communications and signaling infrastructure, digital applications, and critical subsystems.
Nokia offers innovative solutions for the digital transformation of railways — supporting new, smart railway applications without compromising current ones. Our integrated railway solutions help railways to successfully transform their operations to take advantage of the digital opportunity: delivering more for their passengers and communities, ensuring efficient, on-time operations, and maintaining round-the-clock safety and security.
Digitalization of railways: Key drivers
Enhance passenger experience 
Attain efficient, on-time operation 
Maintain round-the-clock safety and security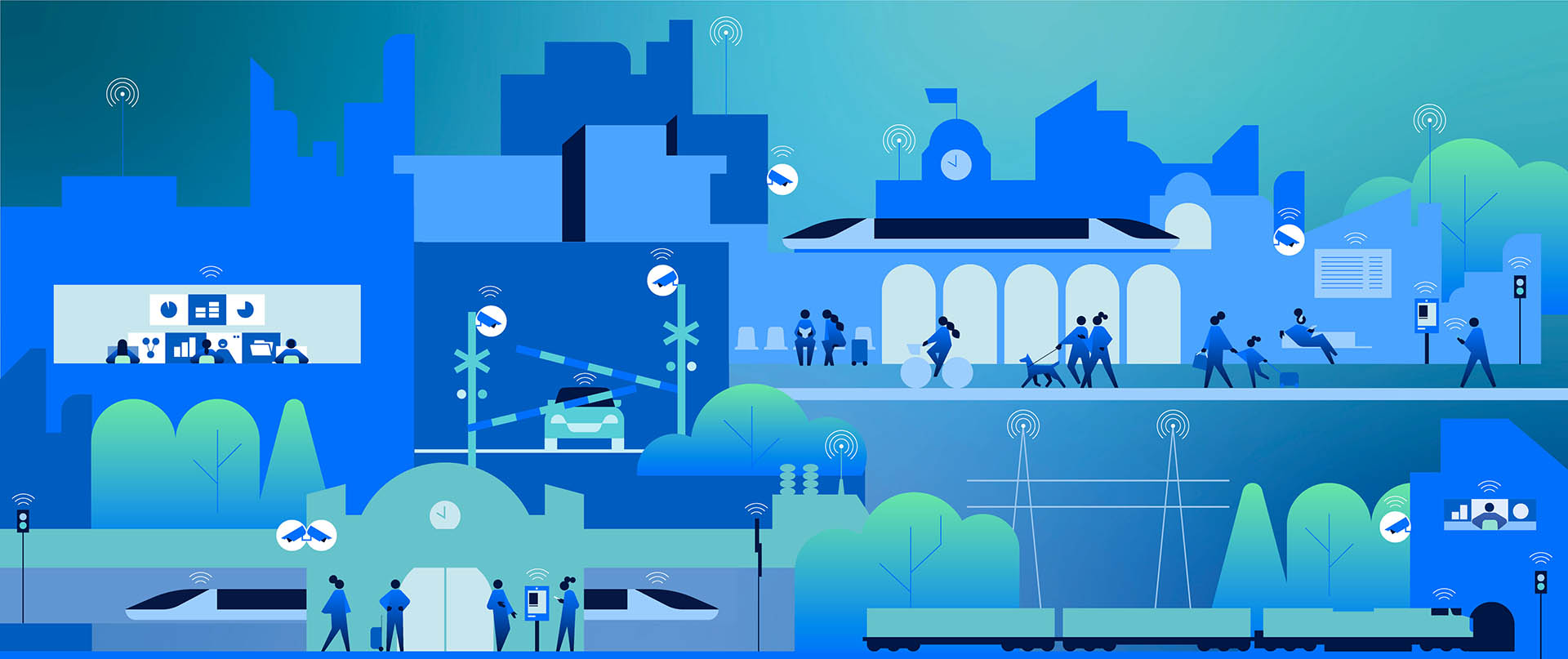 Nokia Telecom Integration Package (TIP) for Railways provides a set of pre-defined best-in-class subsystem packages that have been extensively tested in Nokia's railway integration labs for railway grade performance, stability, and reliability. By simplifying the subsystems into pre-defined packages, Nokia can quickly implement these into the railway green or brownfield environment minimizing project and technical risk while shortening time to commercial implementation.
The implementation is driven by Nokia's professional services experts who combine strong system integration and networking expertise with railway domain experience derived from modernizing communications and signaling infrastructure.
Nokia telecom integration package portfolio
Nokia Telecom Integration Package Portfolio includes but is not limited to:
The subsystem packages: 
Digital Surveillance System (DSS) – incorporating CCTV cameras, Video Management System (VMS), and Video Analytics (VA)

Telephony Systems (TS)

Emergency Telephony System (ETEL)

Administrative Telephony System (ATEL)

Passenger Information Systems (PIS) 

Public Address System (PAS)

Passenger Information Display System (PIDS)

Master Clock System (MCS)

Passive Infrastructure package including fiber optic, copper cables, connectors, cabinets, distribution frames etc.
Integration services
Nokia professional services offer a unique combination of networking and system integration expertise to ensure real-world subsystems' performance, reliability, and availability to meet railway grade KPI's.  Multi-party program management ensures on-time delivery of complex Subsystem integration projects, minimizing risks by incorporating Advanced Integration Methods (AIM).
We are using Nokia developed framework based on system engineering principles that leverage industry best practices such as ISO/IEC15288, INCOSE, CMMI, PMI, and EN50126 standards.
In addition, Nokia offers single-window E2E lifecycle technical support and maintenance services with committed SLAs catering to railway-grade requirements. This minimizes the complexity of handling multi-vendor support contracts and ensures swift fault resolution.
Risk-free deployment with testing and validation at Nokia's railway labs
Each of the predefined railway subsystems offered by Nokia is extensively tested and validated for performance and reliability at Nokia's railway labs, engineering, and integration centers. This ensures that customers can quickly go-to-market with best-in-class subsystem solutions that are proven to work as per railway-grade standards.
We also offer a complete staging environment to carry out IFAT (Integrated Factory Acceptance Testing) before actual deployment into the customer's greenfield/brownfield environment, minimizing risk and ensuring faster project delivery and completion.
Single Point of Contact for multivendor subsystem integration
Assured railway-grade performance and reliability 
Extensive testing and validation of best-of-breed railway subsystems in Nokia labs
Faster time to market with pre-defined railway subsystems
Railway domain experience and technical system integration expertise (network/subsystems)
Minimized project risk with Nokia Advanced Integration Methodology (AIM)
Please complete the form below.
The form is loading, please wait...