Scene Analytics
Transform video and IoT streams into solutions that advance your digital transformation
Overview
Nokia Scene Analytics is a video analytics and IoT solution that helps you achieve business outcomes by combining computer vision technology with advanced analytics to address safety, security and operational efficiency challenges.
This automated enterprise solution can capture and process thousands of video and IoT streams in real-time and use analytics to identify an anomaly or threat, an object or person in the wrong place, or a process that isn't working correctly. It sends instant alerts with insights, clips and other relevant data that will help your teams prioritize and solve the problem.
Get the most from your cameras and sensors
Improve situational awareness
Resolve issues fast by getting real-time insights about what's happening around your facility or campus.
Make good use of data streams
Efficiently manage, analyze and utilize the massive amounts of data generated by your cameras and sensors.
Explore new applications
Address new business and operational demands by applying video streams to use cases beyond surveillance, such as railroad crossing safety and container identification for ports
Do more for less
Use the same solution to address multiple operational and business needs, such as visual inspections for manufacturing or keeping workers out of unsafe environments
Gain freedom of choice
Seamlessly integrate IP cameras and IoT sensors from any vendor, including equipment you have already deployed.
Choose a video analytics solution that's ready for any challenge
Scene Analytics is an open, flexible and extensible platform that can support a variety of industrial use cases, from automated video surveillance to railroad crossing safety and maritime port operations. Combining the best of edge computing and the cloud, the solution is easy to deploy and scales seamlessly to keep up with your evolving digitalization needs.
Scene Analytics can improve situational awareness for any enterprise that uses CCTV cameras and video surveillance, including railways, maritime port operators, manufacturers, power utilities and smart cities.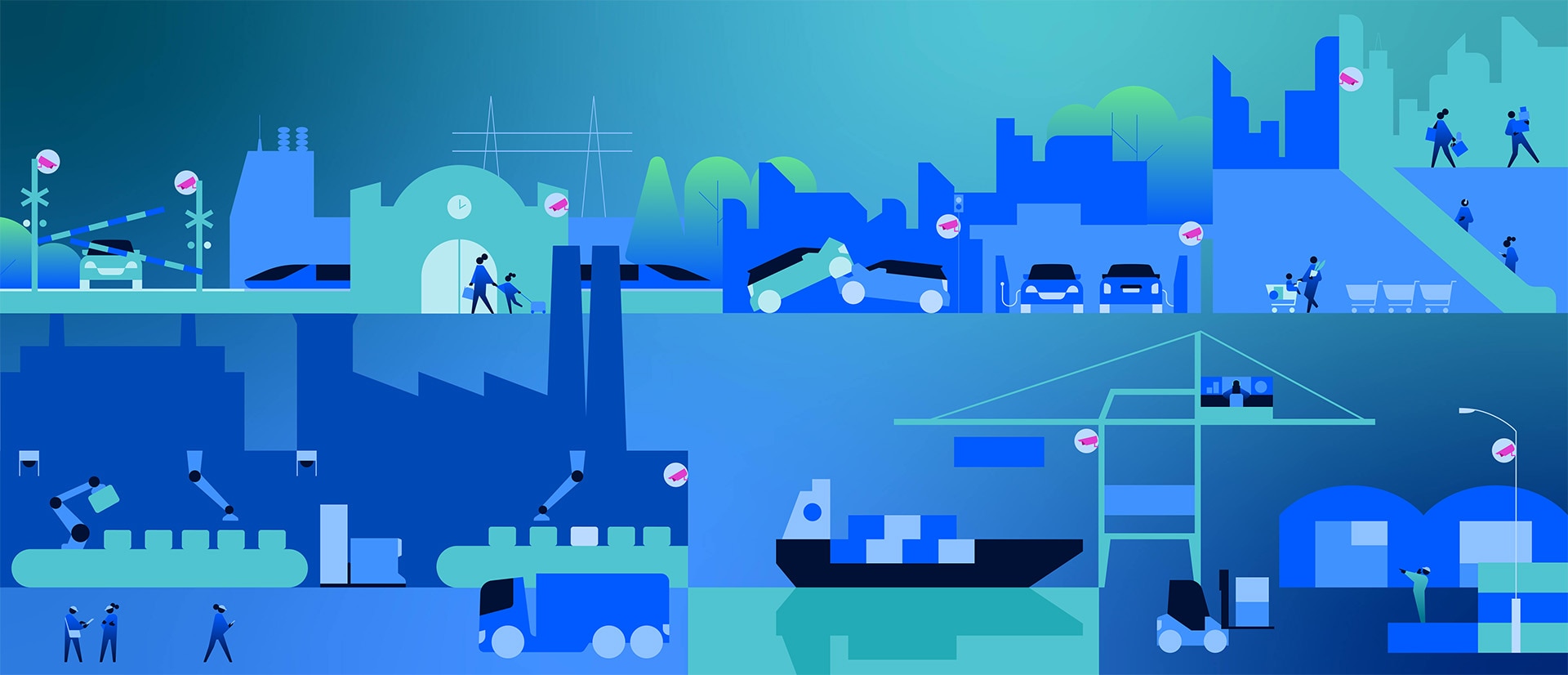 Take advantage of flexible deployment options
You can deploy Scene Analytics in your current network environment or in a secure private wireless network powered by Nokia Digital Automation Cloud (DAC).
A private wireless network fast-tracks your ability to connect cameras and sensors so you can deploy and scale your solution easily. It also lets you transport streaming data cost effectively, at high speeds and with low latency so you can support advanced industrial applications. With Scene Analytics and Nokia DAC, you can quickly, efficiently and securely capture insights from streaming video and IoT data and use them to solve problems wherever you operate.
Features and benefits
Railroad crossing safety
Maritime port operations
Please complete the form below.